PRO-PAIN: The story

Perseverance, integrity, values, roots, slamming, simple, supercharged speed. This is the domain of metalcore legends Pro-Pain. Pro-Pain was born with Gary Meskil after he played during eight years in Crumbsuckers. We 're in 1991, Crumbusuckers split up and Gary Meskil, Dan Richardson, Chuck Lenihan and the other Crumbsuckers members except Robert Koebler also started up a new métal band: Heavy Rain. From Gary' words, "Heavy Rain was influenced with Queensryche, Fates Warning and was just an expérience before i start a new band that i would like to manage my-self".
Pro-Pain is born later, with Gary Meskil (bass/vocals), Tom Klimchuck (guitar) & Dan Richardson (drums). Rising from the ashes of influential New York hardcore act Crumbsuckers, Pro-Pain found themselves minor sensations with 1992's Foul Taste Of Freedom (Gary like to call it "my baby record").The press was unanimous, this album gave new blood to hard-core music with deep lyrics and énergic music.Born in the cesspool of NYC's hardcore world, Foul Taste Of Freedom was more about youth-fuel anger than constructive criticism. But this was a beneficial time for heavy metal, and the record had up sales of 175,000 worldwide... The band release the first vidéo clip with producer Peter Spirer: "Pound for pound".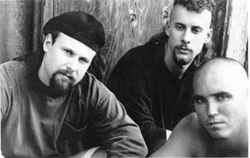 From left to right: Gary Meskil, Tom Klimchuck, Dan Richardson

Guitar player Tom klimchuck leave the band 'cause he had exacerbated illness with Krohn's disease. The band replace him with Nick St Denis known during their tour with Testament.After an intensiv tour with Testament, D.R.I., Body Count, the band recorded a remix for the song "Pound for pound", Mike Holman join the band, and the making-off second album also start. The Truth Hurts was next, slamming into the band like a freight train. "The Truth Hurts was an absolute nightmare," reveals Gary:"As soon as we stepped into the studio, nothing went right until we stepped out. It was weeks trying to get guitar sounds, weeks of trying to get drum sounds, chasing our tails continuously and ending up with a product that we liked at the time, didn't like as time went on, and now just kind of accept for what it is. It stands out in the Pro-Pain catalog as the one being way different from everything else.On februar 4th, the band is in France in Paris "Farenheit" with Spudmonsters...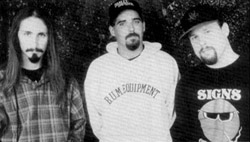 From left to right: Nick ST Denis, Dan Richardson, Gary Meskil

"The truth hurts" came out in july 1994 with a censored cover. This album contains hits like "Make war (not love)", "Switchblade knife" and "Put the lights out" with guest star Ice.T. The recording method of vocals was not a big success, it was hard to understand lyrics, and then the album get not a well success. About The truth hurts, Gary says: " I think it has a lot of cool things about it. It didn't come out the way it was supposed to. The demo sounded a hell of a lot different but I think if anything, it did us a lot of good because we started producing our own records after that. Which is the crucial about-face for this band that found them solidifying their sense of purpose. The band release their second vidéo clip with producer Ben Rubin: "Make war (not love)".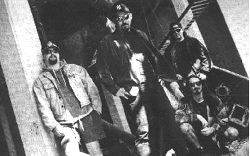 From left to right: Gary Meskil, Dan Richardson, Mike Holman, Nick ST Denis

Every album since 1996 will be self-produced to steel-on-steel perfection, Pro-Pain's steady gaze on the mess that is America captured relentlessly, each album a two-ton cornerstone of a sound that has remained direct and defiant.Tom Klimchuck is back, Mike Holman and Nisk ST Denis leaved the band, replaced with ex- M.O.D. Rob Moschetti. The third album is ready for 1996, and is called: "Contents under pressure". Pro-Pain's back in France and gave an autograph session in record shop "FNAC" in Lyon, in the afternoon, and played live with Pissing Razors & Stuck Mojo in "Globe". This album sign up the return of the band after a large rumor as the band want to split up! Dan Richardson leave the band after the relaese of "Contents", and the band take ex- M.O.D. Dave Chavarri as drummer.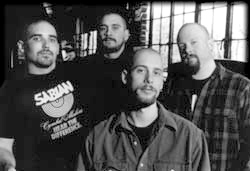 From left to right: Dan Richardson, Rob Moschetti, Tom Klimchuck, Gary Meskil

They also recorded the fourth album simply self-titled and the first best-of came out the same year (1998). The self -titled album is one of the best, it takes a new direction for the Pro-Pain music, slowly but still loud, with an incrédible song "Time" dédicated to Gary'son ! In march of this year, for the last time, Pro-Pain, Gurd and Spudmonsters played on same stage in Paris "La Locomotive". Few month later, The Spuds splited up... Pro-Pain played too in Villeurbanne "Pezner" with opening act Refused.The band release their third video clip with producers John Warden & Peter Konczal: "State of mind".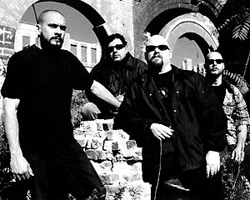 From left to right: Rob Moschetti, Dave Chavarri, Gary Meskil, Tom Klimchuck

Once again, the line-up of the band is changed, Dave Chavarri is gone, and the band was helped during the tour with Mike Hansel, before Pro-Pain find a new drummer... Rob Moschetti leave the band too, and ex-Spudmonsters Eric Klinger is engaged. He gave to his friend (and ex-Spudmonsters too) Eric Matthews the opportunity to join Pro-Pain. The band release two new vidéos with producers John Warden & Peter Konczal: "Time" & "Don't kill yourself to live".
Act of god - the fifth album of the band- came out and is the one i prefer.The band played during long cold winter in France and specially in Strasbourg "La Laiterie", and Paris "La Locomotive. They're back in summer with Pissing Razors, Iron Monkey, Viridiana. The band release their first live vidéo clip "In for the kill" with producers John Warden & Peter Konczal. During this tour, the band recorded a gig to release a live album "Road Rage".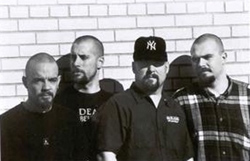 From left to right: Eric Matthews, Tom Klimchuck, Gary Meskil, Eric Klinger

Back in studio after the tour, they recorded a new album "Round 6" and filmed the gig in Stuttgart in 2001 to make a vidéo "Raw vidéo". They toured with Crack Up, 40 Grit, Unbound, once again in Strasbourg "La Laiterie, and in Trier in Germany, i make the promise to Tom Klimchuck to create a fan club in France. The band release a new vidéo with producer Robert Banks Jr: "Substance". In november, FRENCH TASTE OF FREEDOM is born! Next month, the title of coming album is known: "Shreds of dignity".

2002, March 18th, Shreds of dignity is out! The album is more raw than "Round 6", and the following tour with Crack Up, Px-Pain, Against All and Do Or Die is at présent day the best remember tour i have with the band. After the release of "Down for the cause" vidéo, and some European festivals - Bospop, Summer Breeze and many more- and US dates (opening for Machine Head!) the band is back in studio for writting new material....
Eric Matthews leave the band after four years with 'em, Rich Ferjanic (ex Run Devil Run) join the band. Pro-Pain is back in april 2003 before the new album , and also appear in NO MERCY FESTIVAL with Darkane, Malevolent Creation, Nuclear Assault, Death Angel, Die Apocaliptishen Reiter, & Testament. Eric Klinger was injured with his appendix two days before the begining of the tour, Gary Tom and new drummer Rich take the road without "Klingy". The title of comin album is known, "Run for cover"and is scheduled for august 26th. The band will give some summer show in july, in Holland & Germany...

The band found another drummer with ex-paingod JC Dwyer. They also recorded one of their best album 'Fistful of hate'. The band play trough Europe in april with Ektomorf, Disbelief, Morda, Dark Day Dungeon nad get back home to release a new video clip for the song 'Can you feel it'. The band came back in europe in september with Do Or Die.

After a short time in studio, the new record is done and called 'Prophets of doom'. The band is on tourin USA with Entombed and Crowbar, in the early weeks of 2005, and get back on tour in arpil/may in USA with Kreator and Vader... The new record is out in april in Europe.

August 2006, Gary Meskil and Tom Klimchuck are back with the legendary hardcore crossover band Crumbsuckers, for a reunion gig, in New York, at BB KING's club, to celebrate the 20 years of Life Of Dreams album release. A tour is scheduled in Europe for the early weeks of 2007. Finally, the Crumbsuckers reunion tour is cancelled, but Pro-Pain is back with the tenth studio record 'Age of tyranny-The tenth crusade'. A support tour is running from april to may, and some summer festivals are scheduled...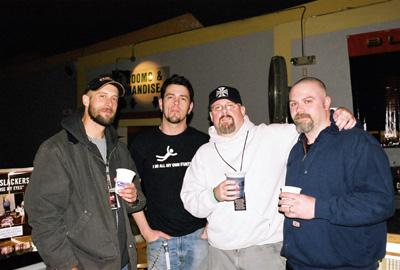 From left to right: Tom Klimchuck, JC Dwyer, Gary Meskil, Eric Klinger
To celebrate the 15 years of a long career, Pro-Pain is back for a special anniversary tour and a new record titled: Age Of Tyranny the Tenth Crusade. The success of this record famous. The Age Of Tyranny tour is in three separate parts: April, Summer Festival & Autumn. But, for the third part of this tour, it's without Eric Klinger, he left Pro-Pain for another band Bloodclot.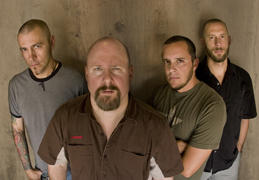 From left to right: JC Dwyer, Gary Meskil, Marshall Stephens, Tom Klimchuck
The new rythm guitarist is Marshall Stephens, and the band close the year 2007 with a mini christmas tour. Back in the early days of 2008 with a new record called No End In Sight, the band show a new face of his music, with some guets as Stepahn Weidner, or Rob Barrett. The band tour a large tour in europe, with a lot of summer festival.
After this tour, JC Dwyer left the band, Rick Halverson is know as the new drummer. A new begining for Pro-Pain with a scheduled tour in Europe and USA for 2009...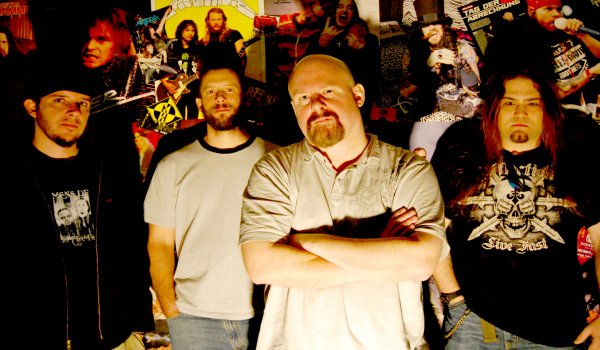 From left to right: Marshall Stephens, Tom Klimchuck, Gary Meskil, Rick Halverson
2009 starts with a sold-out tour with Stephan Weidner band Der W. W drummer is JC Dwyer. A headlining tour follows with Swiss band Gûrd & Blasted. The band is back in US for a two monthes tour with Sworm Ennemy & Mantic Ritual.
After some vacation, the band works on new material for the new record. During February, Pro-Pain join a small village in Switzerland. Gürd's vocalist VO Pulver is the master of ceremony and then during two weeks every one is workin' hard to recording the new album called Absolute Power.
A promotional tour is scheduled from April to May with support band Komah & Tardive Dyskinesia. Release date for Absolute Power is May 7th. From Ocotber to November, the band is back in Europe for another tour with support bands My City Burning & Resistance.
Back home, the band is working on an Anniversary DVD to celebrate the twenty years of PRO-PAIN. But it will be finally without Tom Klimchuck who left the band after all these years due to health problems. The new guitar player is Adam Phillips.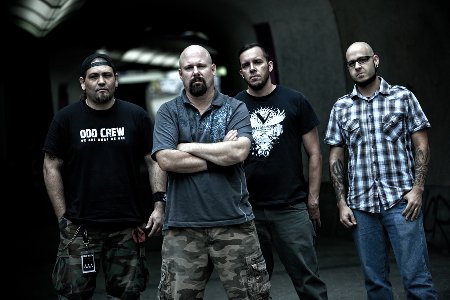 From left to right: Rick Halverson, Gary Meskil, Marshall Stephens, Adam Phillips
2011 is the 20 years celebrating year for the band with a 3 pieces European tour and a CD/DVD called 20 years of hardcore. The new record contains new songs, re-recorded old songs with Pro-Pain ex-members (Rob Moschetti, Eric Klinger, JC Dwyer, Mike Hanzel), and many live material from diffrent period of the band.
The third part of the tour is done without Rick Halverson. Jonas Sanders (from Belgian band Komah) helped the band for the tour and finally joins them as the new drummer. For the first time in history, there is an european man in Pro-Pain line-up!
In June 2012, the band is back in Switzerland for the recording session of their 13rd album. The recording sessions are directed by VO Pulver at Little Creek Studio. The album is called Straight To The Dome and for the first time, the whole band is on the cover! Straight To The Dome entered the 73° place in German charts one week after the release! 500 copies of this album are pressed in yellow vynil. The band is on tour in Europe with Undivided & Hemlock.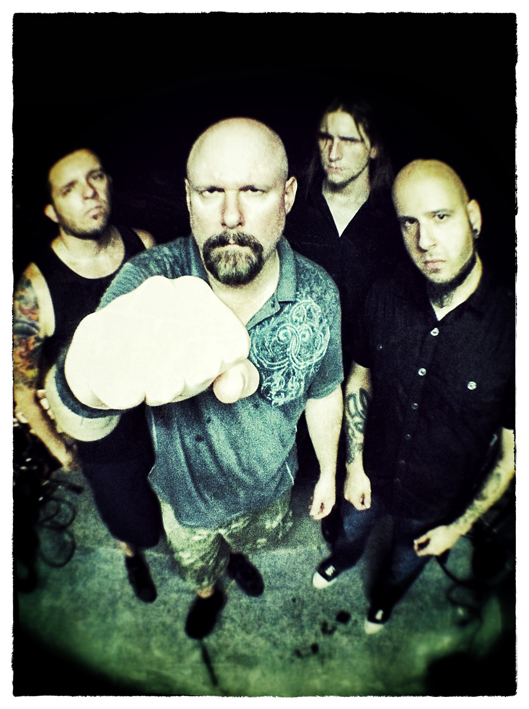 From left to right: Marshall Stephens, Gary Meskil, Jonas Sanders, Adam Phillips
In the early weeks of the new year, Pro-Pain came back in Europe for another tour, with Undivided, Six Reasons to Kill, Don Gatto. After the tour, Gary and Marshall are busy with Darkhaus.
Finally, the band is back in Switzerland for the recording session of their 14th album. The recording sessions are directed by VO Pulver at Little Creek Studio. The album is called The Final Revolution. The new record entered the German charts became quickly a best seller. Some copies of this album are pressed in grey and red vynil. The band is on tour in Europe with Zull FX & Komah.
Gary is now the new bass player of the band SALVATION. Jonas is the drummer for Zull FX for some gigs. Two new tours are scheduled in November for DARKAUS, and December for Pro-Pain.
The band is back for the summer with a two part european tour and a brand new album Voice of Rebellion. The new album is recorded in the States in the same studio where was recorded Salvation first record. For the end of 2015, another european tour is scheduled.
Marshall left the band. Matt Sheridan is the brand new guitarist of Pro-Pain.
Celabrating the 25 years of the band, from 2016 to 2019 the boys will touring through Europe many times and one tour in USA is scheduled for the summer 2016. Sadely this last one is cancelled after two weeks. In the early months of 2018, Adam Phillips left the band, the new guitar player is Greg Discenza from Belgian hardcore band KOMAH.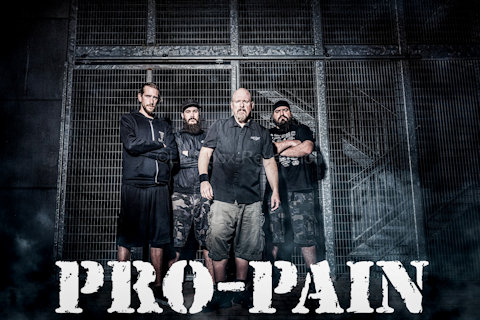 Credit photo: LIGHTBOX-REVELATION
From left to right: Jonas Sanders, Mat Sheridan, Gary Meskil, Greg Discenza
At the end of the year 2019, another tour is scheduled, and the band will be back in USA in 2020. Sadely; with the COVID-19 pandemic situation, the US tour is cancelled.